As part of our Experiential Learning (EL) session on the theme of environment and sustainability, our students went on an exciting visit to an organic farm on June 24th. They got the opportunity to observe the wonders of organic farming and understand the importance of sustainable agricultural practices and their positive impact on our planet. The visit was made to Himgiri Permaculture Farm on the outskirts of Kathmandu Valley in Gokarneshwor. The visit was guided by the farm owner who shared their knowledge and expertise enabling the students to explore the green fields and learn about the significance of organic methods such as using natural fertilisers, avoiding pesticides, and promoting biodiversity.
There were a total of 16 students from grades eight, nine, and ten accompanied by four staff and interns. The students were warmly welcomed to the farm with fresh fruits and a wholesome lunch, all produced right there on the farm. As our students delved into the world of organic farming, they learned about the concept of permaculture and the farm's dedication to sustainable farming culture. During the tour, the farm owner also shed light on significant environmental issues like air pollution and global warming which are the current focus of our EL sessions. Some of the children even participated in planting paddies, an exciting experience that allowed them to connect with the soil and appreciate the hard work that goes into cultivating our food.
We are grateful to Himgiri Permaculture Farm for sharing their knowledge and support on organic farming with our students.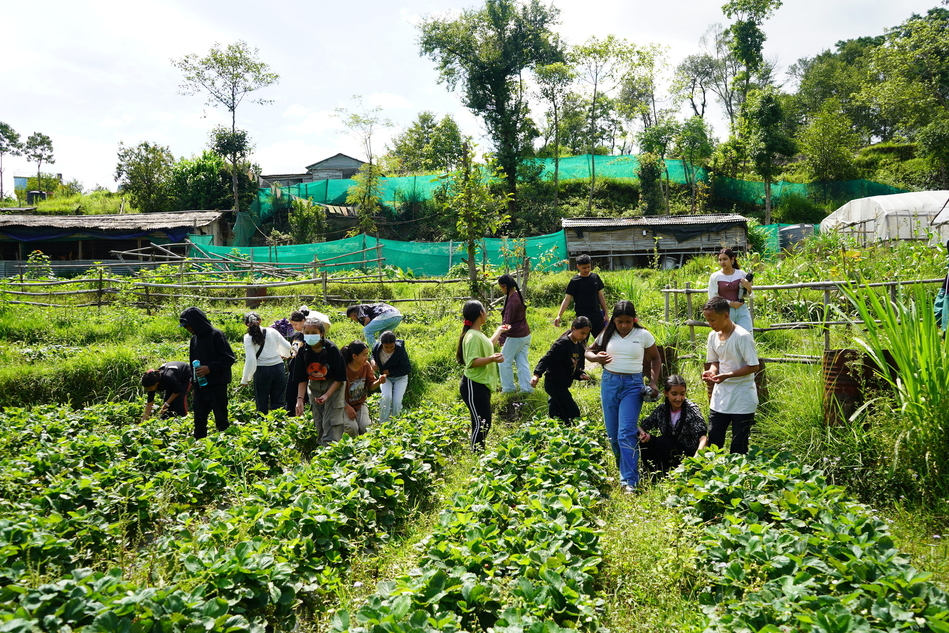 This project is possible thanks to the support of all the members of Amics del Nepal and the collaborating partners: