Development Hour is a youth project of Amics del Nepal initiated in 2019 with the aim to develop and train staff and interns through necessary exposure to various events, seminars, exhibitions, field visits, & other training as well as some refreshment activities. The project also aims at creating a supportive workplace and helping achieve personal goals & skills of the employees.
Since the lockdown resumed once again in April due to the ongoing Covid pandemic, necessary exposure through physical events and field visits was not possible. Therefore, weekly online sharing was initiated in order to develop interns' presentation and research skills along with key life skills (creativity, critical thinking, collaboration, communication, caring). Every Wednesday, interns conduct online sharing on different topics which helps them to develop their knowledge and enables personal growth. During these online sharings, interns use different mediums such as poetry, slideshows, videos and even questionnaires to make the sessions more lively and engaging. As a result of this, the interns have been gradually developing their presentations and communication skills.
There were however a few challenges that interns faced during these sessions. Nervousness was a common factor as leading such online sharings was their first experience. While they were more comfortable in person, it was a bit difficult to interact smoothly on screen. However, as with most Amics del Nepal activities, these sessions are also experiential and the interns will hopefully enjoy more as they continue to learn by doing.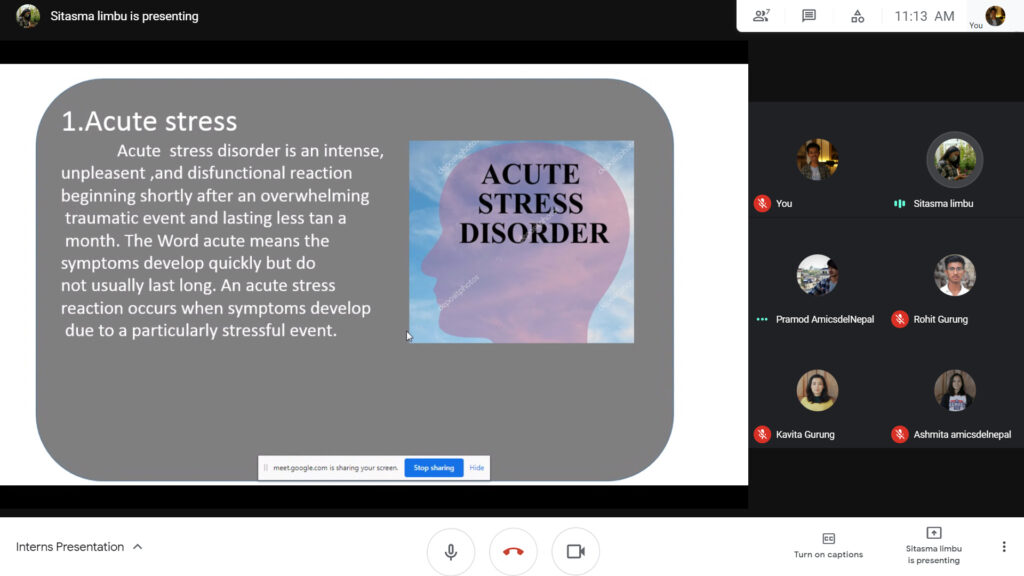 This project is possible thanks to the support of all the members of Amics de Nepal and the collaborating partners: