The second wave of COVID-19 has had a devastating impact on the entire country. Despite the fact that the lockdown in Nepal has begun, there are no plans or regulations in place to control the situation. Hospitals lacked oxygen cylinders, beds were overcrowded, vaccines were in short supply, and over 5000 COVID cases were reported daily. During this period, the country was entirely dependent on community initiatives and foreign aid.
Aside from these issues, the general public had a lot of difficulty going about their daily lives. Due to lack of financial resources, people were unable to meet their basic needs, especially daily wage earners. Given these circumstances, Amics del Nepal reached out to their beneficiaries and families to learn more about their situation. And on 10th June, a fourth round of relief packages were distributed for a total of 23 beneficiaries' families. Depending on the size of the family, the packages included basic food and hygiene packs. Rice, lentils, beaten rice, oil, salt, and soap were among the relief items provided. Along with this, families were given direct cash to help with cooking fuel expenses.
On the same day, basic Nepali literacy practice books were distributed to 14 interested women (mothers of Amics Children Program and community women working in carpet factories). The primary goal of distributing these books was to improve their literacy skills and to teach them Nepali reading and writing. Furthermore, because there have been no classes in the Activity Centre, this was considered the best time to invest and utilize in gaining knowledge during lockdown at home.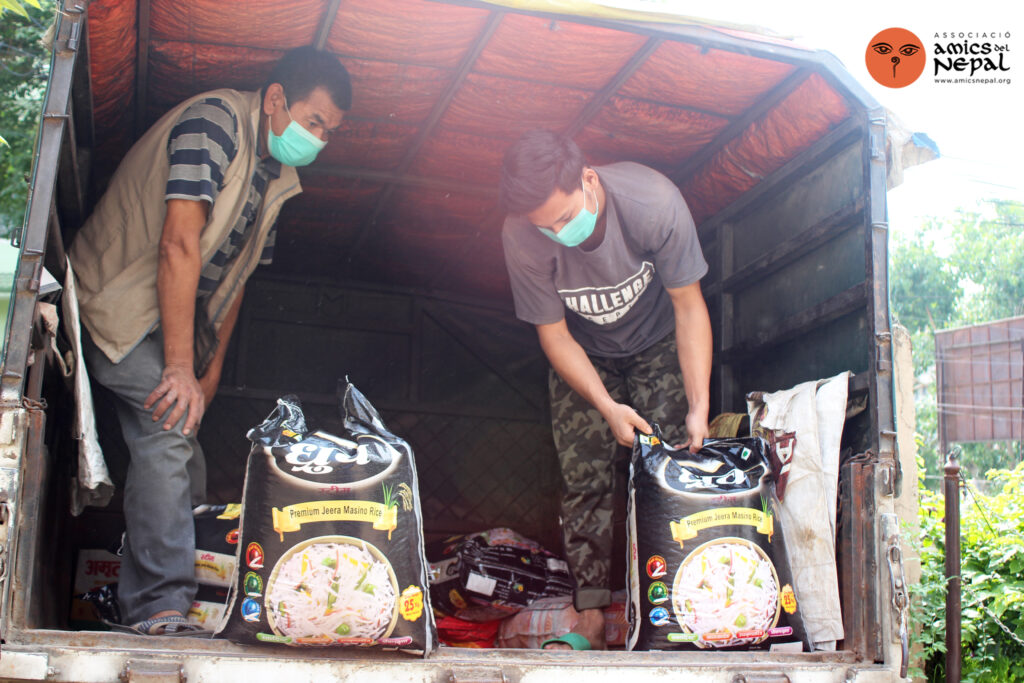 This project is possible thanks to the support of all the members of Amics de Nepal and the collaborating partners: