The Social Week is a project under the Youth Project with the aim to develop the basic 5C skills (Creativity, Critical Thinking, Collaboration, Communication and Caring) among the youth participants. The project is experiential, participative, and is socially responsive in its essence.
On 4th June, Social week session had its closing marking the World Environment Day 2021. The 11 week long online Social Week.02 session was based on the theme "Environment & Sustainability." Throughout the session, the youth were exposed to concepts of environment, sustainability, and circular economy. They were also involved in English learning activities and use of multimedia during presentation. Apart from this, they were also introduced to research methods and tools such as preparing questionnaires, conducting surveys, data collection and analysis. Based on the theme, the youth conducted an online survey on two different topics; "Air Pollution in Kathmandu" and "People's Behavior towards Waste Management" among 60+ participants each.
In the final event, an online powerpoint presentation was shared to present the findings and analysis of the survey responses with all the Amics Kathmandu staff and the beneficiaries of the overall Youth Project through Google Meet. Moreover, the challenges that we faced during the session was that we had to conduct the session online in the middle as the second wave of COVID-19 was on its peak in Nepal and the nation had to go through another lockdown at the end of April.
Finally, the Social week youth will now move on to the Social Hour Project under the Youth Project in their second year where they will receive career guidance and counselling, mentorship opportunities and direct exposure to real work settings through volunteering in social organisations.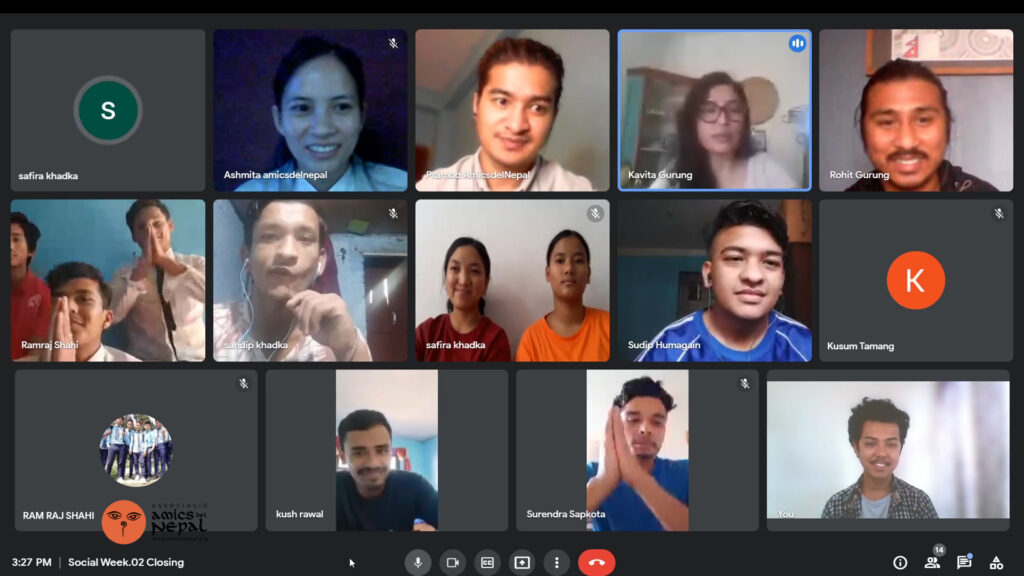 This project is possible thanks to the support of all the members of Amics de Nepal and the collaborating partners: