Amics del Nepal has implemented the Namuna Bari project with the support of Ateneu del Món and the Sant Quirze del Vallès City Council for the first three years (September 2017 – September 2020) and the Montornès del Vallès City Council for the last year (September 2020 – August 2021). The project was started with the main objective of helping the Bhimphedi Children's home to become more sustainable by obtaining benefits from the garden and to provide a more balanced diet for the children. Furthermore, Namuna Bari aims to be a place to experiment and test new agricultural products and techniques that can be good for the community by incorporating sustainable alternatives and new farming technology.
a) Formation
a1) Kush, Namuna Bari project coordinator, after finishing the previous course in veterinary vocational training, this course has completed the first course of the diploma in animal sciences (veterinary medicine), in addition to attending various agricultural training courses and making visits to centers of interest accompanied by other members of the Namuna Bari team.
a2) Workshops have been organized for the children, youth and staff of the foster home:
A basic workshop on the various phases to make samplings
A basic workshop on the importance of consuming green vegetables
An introductory educational workshop on probiotics
An educational workshop on healthy eating
A workshop on the importance of waste management, and the use of organic to make compost
a3) Literacy classes have been held continuously for the workers of the Bhimphedi Children's Home. A basic level of reading and writing is very important to be able to follow written instructions, or make lists of materials and purchases and make notes; as much in the task in the kitchen garden as in the rest of tasks and in their life in general.
b) Constructions and samplings
Map of the Namuna Bari kitchen garden at the beginning of the course (September 2020)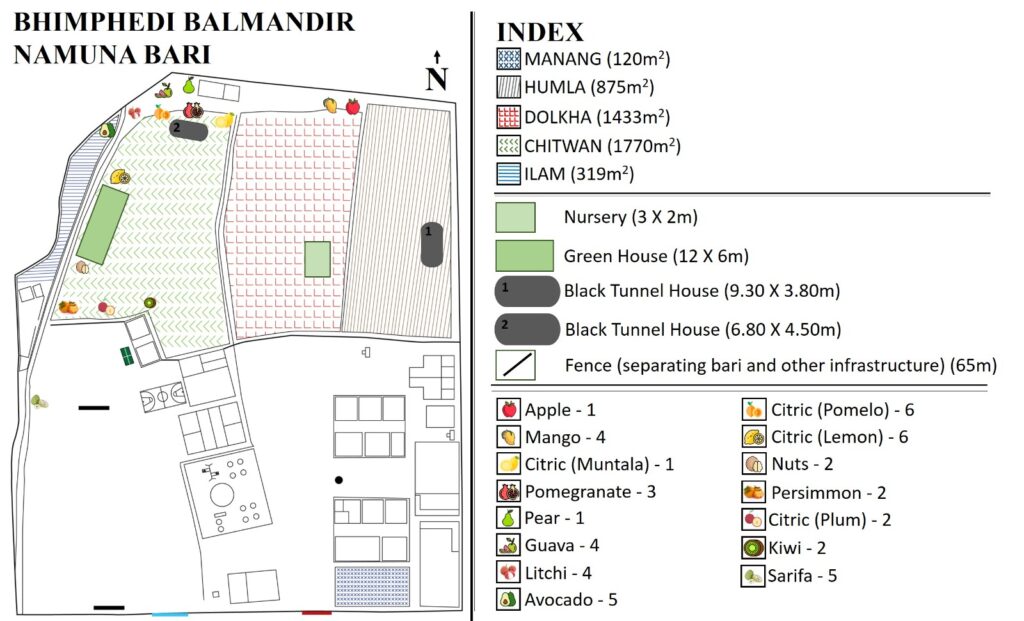 Map of the Namuna Bari kitchen garden at the end of the course (August 2021)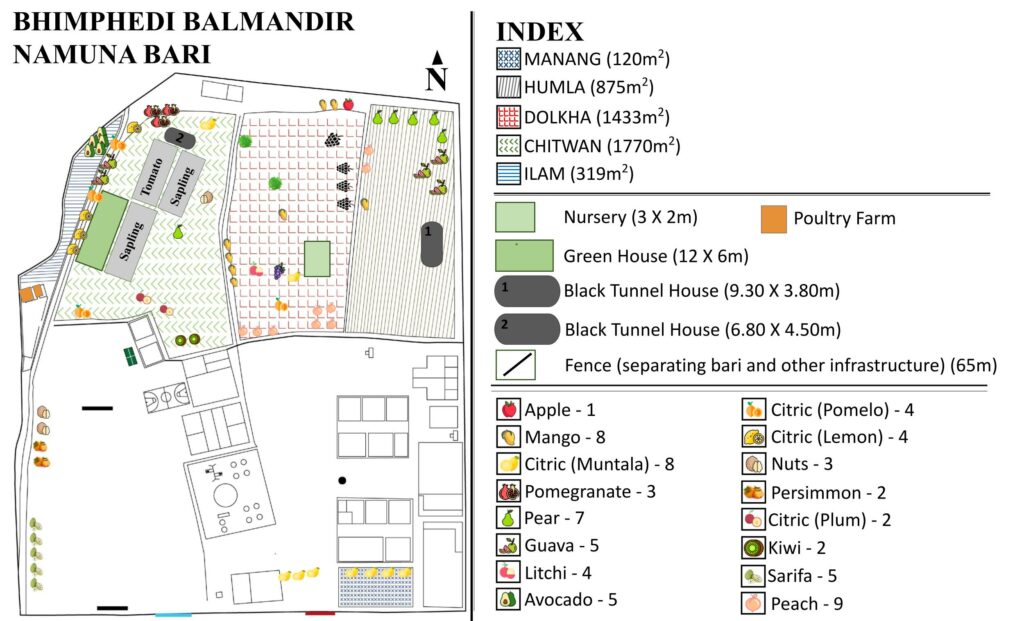 b1) Three sheds have been installed, one for tomatoes and two for the samplings.
b2) It has gone from 48 to 72 fruit trees.
b3) A fence has been installed to separate the kitchen garden from the children's home.
b4) New material such as the tillage machine has been acquired.
c) Harvest
c1) About 908 kg of vegetables have been harvested from the kitchen garden.
c2) About 50 kg of mushrooms have been produced.
c3) About 1560 kg of fruits have been collected.
The Namuna Bari project is possible thanks to the support of the City Council of Montornès del Valles, and has been possible during 2018-2020 thanks to the support of Ateneu del Món and the City Council of Sant Quirze del Vallès: